Aging is a privilege, let's do it gracefully. Love the skin you are in. ~Olga
TREATMENTS:
Intraceuticals Oxygen Facial Treatment: Cooling, calming Oxygen under light pressure is applied directly to the skin's surface increasing the absorption of the special hydrating serum. Your skin will emerge deeply hydrated, youthful and glowing with a noticeable reduction in fine lines and wrinkles and a visible lift. Safe for all skin types even the most sensitive or stressed skin. Results are not only instant but continue to improve in the following days. This treatment is customized with a specific serum to treat your skins needs.
30 minutes $85 60 minutes $145 90 minutes* $205
Added to Neck and Decollete $75
Give your skin a BOOST. Enhance your treatment with one of the four Booster Treatment serums $25- Vitamin A, Vitamin C+3, Collagen Peptides, Antioxidant
*90 minutes Intraceuticals Infusion Treatment includes intensive foot treatment and Oxygen Inhalation. The feet are cleansed, exfoliated (using salt scrub) and massaged.
Atoxelene Infusion Treatment: The most natural way to help relax muscle contraction. It is a neuropeptide, where special messenger proteins encourage the muscles in the area of contraction to relax! Because it works along the same lines as neurotoxins (wrinkle reducing injectables), it can be the best friend to someone who already gets these injections or the natural alternative to those who won't go near the needle.
30 minutes $75
As treatment enhancement $45
The Ultimate WOW! Treatment: Combine the texturizing results of Dermaplaning with the intense hydration of an Intraceuticals Facial Treatment. The results are amazing! The face looks contoured, defined, and supple!
90 minutes $195
Dermaplaning: Dermaplaning is a method of exfoliation that consists of using a scalpel to gently scrape off the top layer of dulling dead skin cells along with the vellus facial hair (also known as "peach fuzz") in order to reveal a smoother, brighter complexion.
30 minutes $75
Add Multi-Acid Peel $95
Kerstin Florian Deep Cleansing Facial: A deep-cleansing, purifying treatment individually customized based on skin type and concerns. This relaxing treatment includes an exfoliating peel to renew the skin, a stimulating massage to promote circulation and a personally selected masque to balance and deeply nourish the skin. Customized Serums along with a hydrating hand and nail treatment completes the experience.
60 Minutes $105
Kerstin Florian Masque Enhancements $25~
Chitosan Masque- This incredibly soothing alginate peel-off masque reduces the appearance of redness and soothes irritated, sensitive skin.
Brightening Facial Masque with Luminous Rice- Immediately illuminates the skin to provide a fresh, hydrated and brighter appearance. This peel-off masque utilizes a brightening complex of natural rice an Swiss alpine botanicals. These active ingredients help inhibit melanin synthesis, provide an even skin tone and a softer, more luminous complexion.
Circadia SWiCH: SWiCH, Circadia's signature treatment, is a unique alternative to chemical peels that takes advantage of the skin's natural repair mechanism without causing damage. This treatment imparts an immediate boost to the look and feel of aging skin. Though results are seen after a single treatment, a series of treatments are suggested. Recommended for over the age of 37 with visible signs of aging, sun damage or environmentally damaged skin.
60 minutes $145
Circadia Oxygen RX Treatment: Pure Oxygen boosts circulation, enhances skin clarity, and leaves the complexion hydrated and revitalized. This treatment is amazing for acne/breakouts, sun-damaged skin, inflamed appearance of capillaries, and Rosacea.
60 minutes $125
Circadia Peptide Firming Mask (with optional Vitamin A Accelerator): This firming and tightening mask combines some of the latest technology in peptide, antioxidant and dermal regeneration science, resulting in micro circulation, detoxification and instant firming, lifting and tightening. Skin that is seeing the advanced signs of aging that lacks tone and vibrancy will benefit for this mask.
60 minutes $115
Peptide Firming Mask can be added to any facial treatment. 30 minutes $35
Optional Vitamin A Accelerator ~ Why choose this option? Vitamin A Accelerator is a multifunctional treatment booster designed to accelerate physical peeling from the inside out without creating damage to the skin. Benefits of this accelerator will increase cell turnover and increase collagen and elastin through fibroblast stimulation while circulation is already stimulated. Light flaking to moderate peeling of the skin is expected. Home care kit is included.
15 minutes $45
Circadia MandeliClear Peel System with Vitamin A Accelerator ~ The MandeliClear Peel System was developed specifically for attenuating pigmentation issues. Effective for lightening pigmentation due to acne, melasma or photodamaged skin. This peel is safe, gentle and well tolerated by most skin types. It is also great to help get you acne under control. This peel is a layering peel – up to 3 layers can be applied, but you will always begin with one. Home care kit included.
Contraindications include; Aspirin or salicylic sensitivity, pregnancy, excessive open lesions, or highly sensitive skin types.
30-60 minutes ~ First peel/one layer $99. Two layers $125. Three layers $155
Gel Based Peel Technology ~ Most commonly known as a lunchtime peel. A technology in peeling where you will experience little to no stinging and should not experience flaking or peeling.
30 minutes $75
LACTIC ACID PEEL:
Suitable for most skin types, ideal for aging, dry and sensitive skin types. Benefits of this peel include exfoliation, hydration, and no downtime.
ALPHA BETA PEEL:
Suitable for most skin types, ideal fo combination, congestion, oily prone. Benefits include exfoliation, a topical antibacterial benefit, and improvement of the appearance of damaged skin.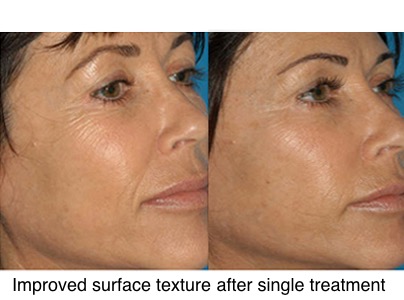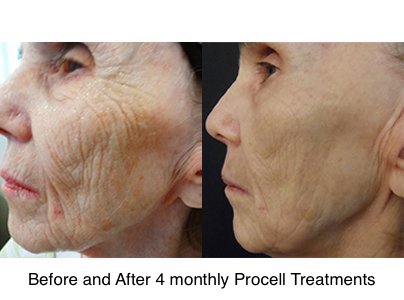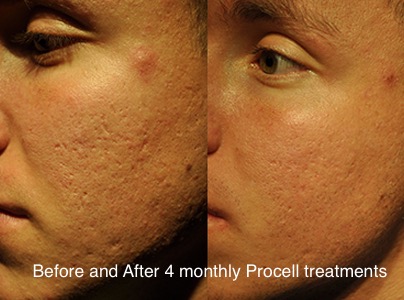 Procell Microchanneling and Stem Cell Therapy - Pro cell improves the appearance of aging skin, increases the vitality of your skin and reduces the appearance of fine lines, wrinkles, uneven skin tone, acne & acne scaring. Procell MicroChanneling encourages new collagen and reduces the signs of aging via stimulation of your stem cells, and the introduction of potent peptides, growth factors and Stem Cytokines. The Procell MicroChanneling is paired with the Livra MicroChannel Delivery Solution that is used during treatment and contain hyaluronic acid and a proprietary Stem Cytokine profile including peptides and growth factors that improve cellular communication during the skin rejuvenation cascade that occurs in the days and weeks after treatment. 60 minutes ~ $195
Treat the neck and decollete during your Procell Facial Treatment for $99!
ABOUT THE BRANDS
Intraceuticals Progressive Skin Care Technology
This amazing technology is well known, loved and used by celebrities, spas and resorts all over the world. The Intraceuticals Hyperbaric Oxygen facial treatments combine powerful skin loving ingredients, vitamins and antioxidants with multi-weight hyaluronic acid to dramatically transform the look and feel of your skin.
Intraceuticals oxygen infusions are non-invasive treatments that targets the hydration levels in the skin which effect fine lines, wrinkles, uneven skin tone, and acne. Most often mistaken as just another oxygen facial, this treatment is completely unique and combines cutting edge science and technology with extensive research. Serums composed of antioxidants, amino peptides and nano-hydrating spheres are delivered to the skin using oxygen under high pressure (hyperbaric) to optimally hydrate the skin from the inside out– leaving skin looking and feeling nourished with a firming visible lift! The benefits are extensive and the treatment is also widely used to support cosmetic laser and surgical procedures and visibly improves the appearance of common skin conditions such as acne, rosacea, and severely dry skin.
The Kerstin Florian Heritage
Born and raised in the scenic landscape of Sweden, Kerstin Florian has always been inspired by nature, its energy and its intrinsic connection to wellness. Her gift for blending nature into innovative products and experiential treatments for unparalleled results led her to craft her namesake line of products and protocols built around the four cornerstones embraced in her holistic approach to skincare:
Proper Nutrition • Regular Exercise • Peace of Mind • Care of the Face & Body
The result is a portfolio of skincare programs that deliver noticeable results via beautiful and memorable sensorial experiences. This powerful blend of passion, innovation, natural wellness and the spa lifestyle, combined with its guiding philosophy of Outer Beauty, Inner Health, has led Kerstin Florian International to be partnered with the finest luxury resort and destination spas around the world.
Circadia ~ Circadian Rhythms
The Circadia philosophy of skincare is centered on the body's circadian rhythms, defending from environmental insult during the day, and stimulating repair mechanisms during sleep. Circadia's products utilize paraben-free preservative systems, a multitude of cutting edge ingredient technologies and specialty items for comprehensive treatment of aging skin, pigmentation disorders, acne and rosacea.
Circadia by Dr. Pugliese has a rich history and bright future. Dr. Pugliese, Circadia's founder, remains a strong, influential voice in the science of aging skin. Michael Pugliese, Circadia's CEO, has earned a distinguished reputation as a lecturer in skin science and as an innovator in product formulation.
Procell~
How long should I wait in between treatments?
You can receive your second treatment in 2-3 weeks, but following this 3-4 weeks between treatments. This will allow for the healing cascade to occur.
How many treatments should I have done?
The number of treatments greatly depends on what we are treating. For moderately aged skin, 1-2 treatments may be sufficient. For deeper wrinkles and acne scarring, 4-6 treatments may be required to achieve desired results. There is no limit to the number of treatments that one can receive as long as adequate time passes in between each treatment.
What will this improve the appearance of?
Fine Lines and wrinkles, hyperpigmentation, acne scarring, stretch marks and rosacea are all conditions that Procell can help improve.
How long is the down time?
After treatment, wait a minimum of 90 minutes before applying anything else to the skin (including sunscreen, moisturizer, and anything apart from the remainder of the vial of Solution used in treatment. Typically, it takes between 4 and 72 hours for all redness and/or sensitivity to subside.
How will I look after treatment?
Anything from minor redness to deep flush. As this is a non ablative procedure, more extreme reactions do not necessarily correspond to better results.
How long before I can expect to see results?
You may notice an improvement in the quality and appearance of your skin within the first 24 hours. After 2-3 treatments skin thickening and improvement of the cellular matrix will produce more consistent and noticeable improvement. And 6 or more treatments may be recommended for laxity and wrinkles.
What should I use for home care?
MicroChanneling stimulates the body to release peptides, cytokines and growth factors that induce collagen. As you get older, the stem cells that produce these vital proteins lose efficacy and decline in population, so microchanneling alone becomes less and less effective. Because of premature aging the Livra Treatment Serum, and the post care Cellular Renewel Serum and Healing Accelerator become more necessary to produce lasting and noticeable results. Use of the Livra products ensure the skin continuously receives protein, robust and pristine peptides, cytokines and growth factors even in between treatments. Think diet and exercise- the best way to see results from your exercise effort is to have proper home care routine. Livra Cellular Renewal Serum and Healing Accelerator are it! These can be book ended into any current routine to amplify results!
How do I schedule this treatment with my monthly facial treatments?
Microchanneling can be done one week pre or post most skin care treatments. Getting regular facial treatments and using professional products helps improve the health of the skin which will be more responsive to the healing cascade. An Intraceuticals Treatment with specially selected Booster for your skins concern is suggested one week post Procell Microchanneling.
Amplify your results~
Cellular Renewal Serum Pro and Healing Accelerator Serum Pro - A powerhouse of physiologically balanced growth factors and cytokines, potent peptides and protective antioxidants.
$240 for the set through July. $250 after July 31st.
Cellular Renewal Serum MD and Healing Accelerator Serum MD - A medical grade skin care system that contains twice the cytokines found in our Pro Serum, along with TGF-β3 and IL-1 to provide enhanced anti-aging, pro-healing and anti-inflammatory benefits. Stronger collagen production with shorter downtimes!
$350 for the set through July. $370 after July 31st.